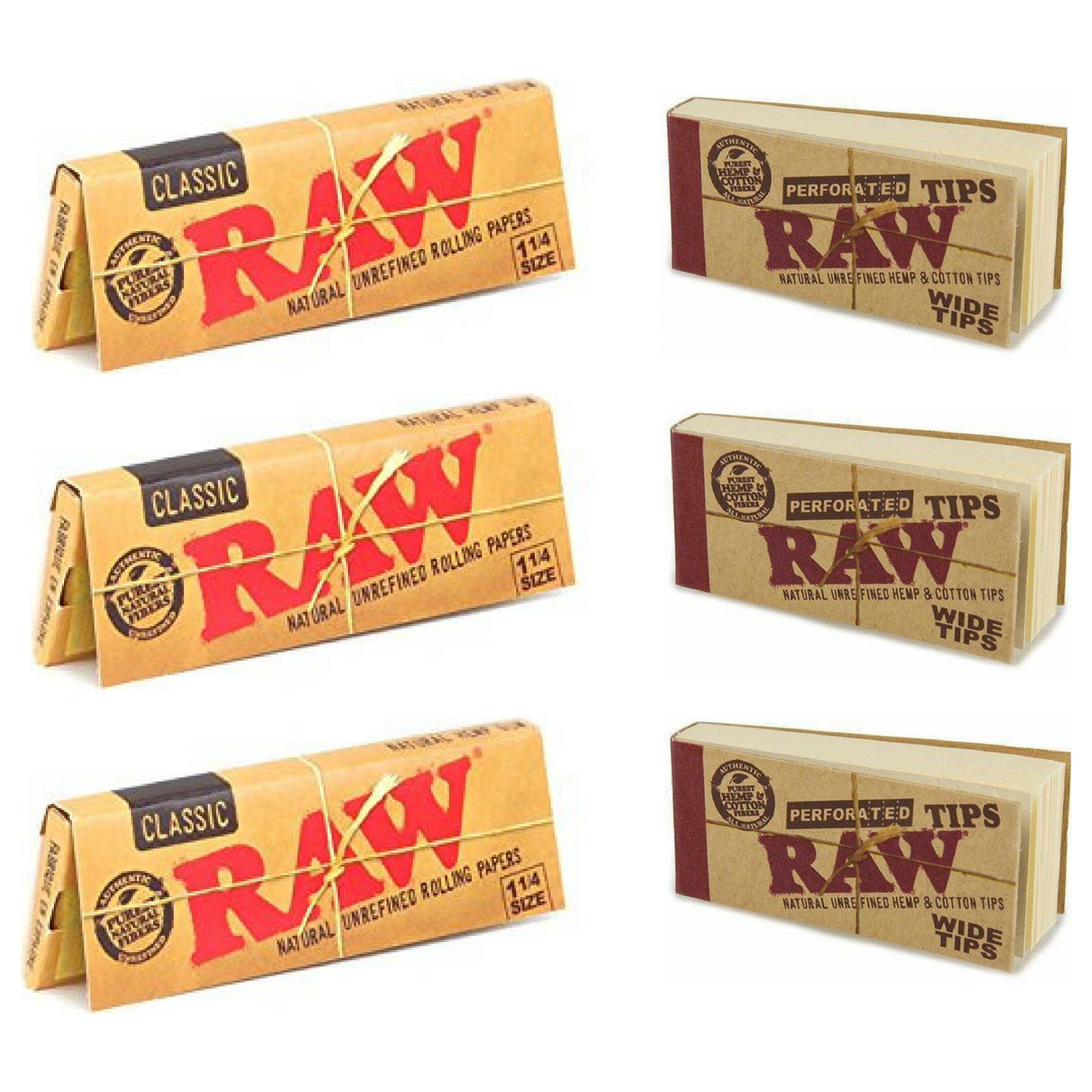 RAW CLASSIC 1 1/4 ROLLING PAPER + RAW WIDE & PERFORATED FILTER TIPS - SET OF 6
RAW Natural Rolling Papers have developed a cult; RAW are pure, less processed rolling papers, unlike anything that you have ever seen or smoked. Because they contain a hybrid blend of unbleached (not chlorine whitened) fibres, the paper is a translucent natural light brown color. RAW is so thin that you can see through it. RAW WIDE TIPS are made from all-natural products and use 100% free Chlorine paper. The RAW WIDE TIPS are separated into perforated strips making it nice and easy to roll. The taste of tobacco in your mouth or as it slips in your teeth is a plenty unpleasant one. This is why RAW WIDE TIPS are a must for anyone who enjoys rolling their cigarette. A cigarette roller will make it easier for you to roll your cigarette. This is because it will create a space at the cigarette's end, so your fingers do not burn and also stop tobacco bits from getting into your mouth. RAW WIDE TIPS are manufactured such that they are practical to use by giving you space between the tobacco and your teeth. The RAW products are made of a high-quality material; hence, the effectiveness is assured.
Pack Of 3 Raw Classic 1 1/4 Papers + 3 Raw Wide & Perforated. Each Rolling Paper packet contains 50 leaves of pure pleasure and each Tips packet contains 50 filter tips.

The world's first classic rolling paper is here. Made from the unbleached paper that is sustainably farmed and vegan approved, RAW Classic rolling paper is less processed than other rolling papers. An unbleached rolling paper is a thin and light tan, even lighter than the original RAW products.

Each tip has a number of perforated strips on one side that makes it nice and easy to roll you tip. you can also use this to create a 'Z' shaped center, which is a great way of adding a bit of extra strength and cooling down when you inhale. RAW perforated hemp tips are made with the same quality hemp that RAW is famous for. Tips enhance your smoking experience by preventing your filler from accidentally getting into your mouth.
You acknowledge and guarantee that by using or buying this product, you have reached the age of 19 years. This offer is intended solely for persons who are 19 years of age or older, and any registration, use or access to the Website/Products/offer by anyone under the age of 19 is unauthorized, unlicensed, and in violation of these General Terms. You agree that the use of the products / Website, including the webshop, is at your sole risk. You agree that all products, including but not limited to bongs, rolling papers, water pipes, glass tubes, and pipes displayed, advertised or sold within the Website are expressly intended for ornamental purposes, collector purposes, or use with legal smoking products or other lawful purposes only. No other use for these items in any way is either intended or condoned by you or our webshop/website.