Singer and songwriter, Jim Morrison was born as James Douglas Morrison on December 8, 1943 in Melbourne, Florida.
Singer and songwriter, Jim Morrison was born as James Douglas Morrison on December 8, 1943 in Melbourne, Florida.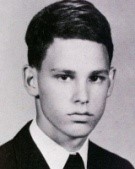 During his early years, Jim Morrison was a dutiful and highly intelligent child, excelling at school and taking a particular interest in reading, writing and drawing. As a high school student, Morrison began to rebel against his father's strict discipline, discovering alcohol and women and bristling at all forms of authority. "One time he told the teacher he was having a brain tumor removed and walked out of class", his sister recalled. When he graduated from high school in 1961, he asked his parents for the complete works of Nietzsche as a graduation present  a testament to both his bookishness and his rebelliousness.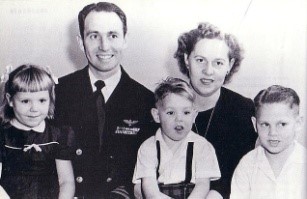 After graduating from UCLA, Elektra Records signed the Doors in 1966, and in January 1967 the band released its self-titled debut album. The Doors' first single, "Break on Through (To the Other Side)," achieved only modest success and it was their second single, "Light My Fire," which catapulted the band to the forefront of the rock and roll world, reaching No. 1 on the Billboard Hot 100 Singles Chart in June.

When they performed the song live on The Ed Sullivan Show, The Doors--and Morrison especially--became infamous later that year. Because of its obvious drug reference, Morrison had agreed not to sing the lyric "girl we couldn't get much higher" on the air, but when the cameras rolled he went ahead and sang it anyway  cementing his status as rock and roll's new rebel hero. "Light My Fire" remains The Doors' most popular song, featuring prominently on virtually every major list of the greatest rock songs ever recorded.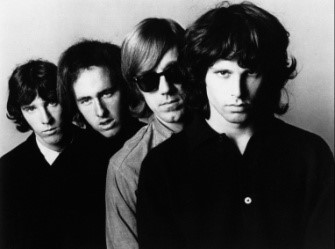 Combining Morrison's darkly poetic lyrics and outlandish stage presence with the band's unique and eclectic brand of psychedelic rock music, The Doors released a flurry of hit albums and songs over the next several years. In December 1967, they released their sophomore album, Strange Days, which featured the smash hit "Love Me Two Times" as well as "People are Strange" and "When the Music's Over." Months later, in 1968, they released a third album, Waiting for the Sun, highlighted by "Hello, I Love You," "Love Street" and "Five to One." They went on to record three more popular and groundbreaking albums over the next three years: The Soft Parade (1969), Morrison Hotel (1970) and L.A. Woman (1971).

Throughout the band's brief tenure atop the music world, Morrison's private life and public persona were both spiraling rapidly out of control. His alcoholism and drug addictions worsened, leading to violent and profane onstage outbursts that provoked the ire of cops and club owners across the country.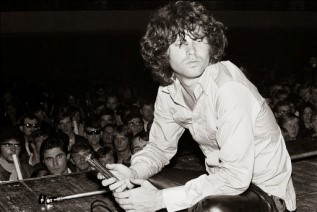 Due to the quality of his songwriting, his baritone voice, and his wild personality, he is regarded by critics and fans as one of the most iconic and influential front men in rock music history, and, due to the dramatic circumstances surrounding his life and death, in the latter part of the 20th century, he was one of popular culture's most rebellious and oft-displayed icons, bridging the generational gap with youth counterculture.