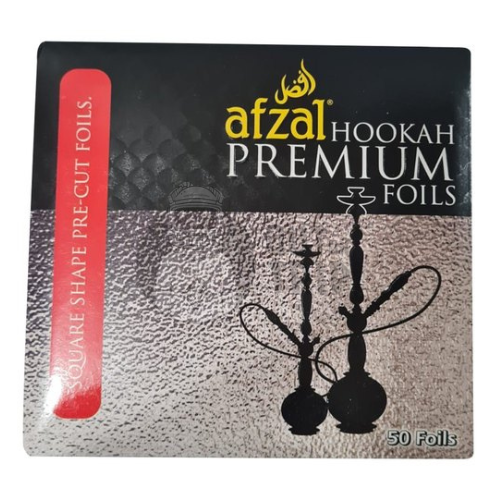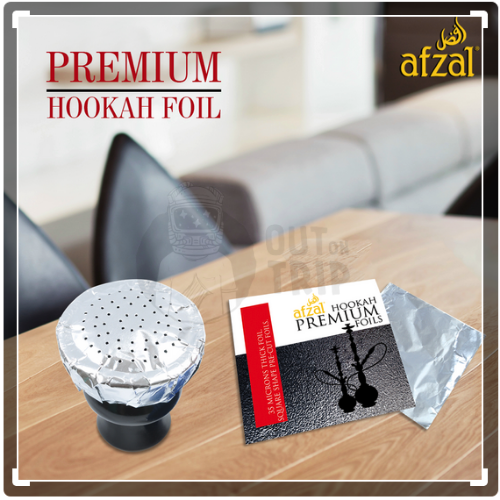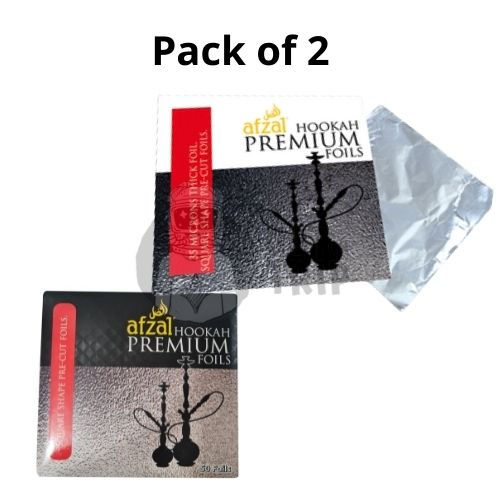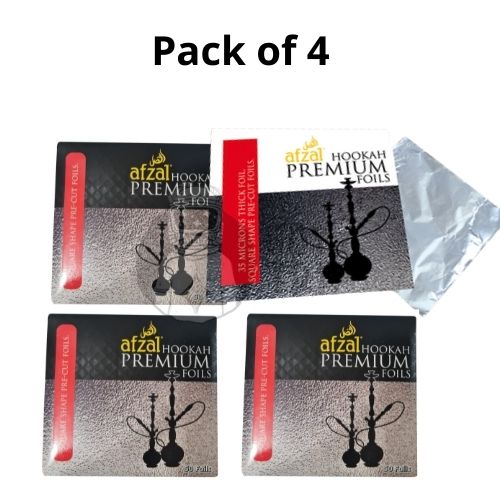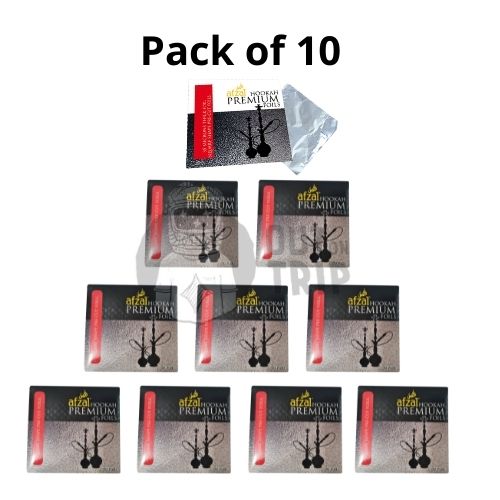 Afzal Hookah Premium Pre-Cut Aluminium Foils - 50 Sheets Pack
PRODUCT DETAILS

Thick Foil

Excellent Heat Transfer

Specially Designed for Hookah

Premium & Excellent quality hookah pre-cut foil papers

Perfect for sheesha lovers
Use
Shisha Foil is a necessary accessory for hookah shisha
Make sure you add the foil on your bowel (foil) shiny side down for even heat
Very convenient, easy, and ready to use
Technical Details
Color ‎- Silver
Package Dimensions - ‎L-12 x W-13.3 CM
Primary material - ‎Paper
Capacity ‎- 50 Count (Pack of 1)
PRODUCT DESCRIPTION
Enjoy a complete Hookah smoking experience with Afzal pre-cut Aluminium Foil sheets, brought to you by OutonTrip, the leading Hookah flavours and accessories brand preferred by Hookah lovers worldwide.

Unlike regular foil which are thin and lead to overheating of your shisha tobacco, Afzal Aluminium Foils are specially manufactured using advanced heat-resistant technology for effectively sustaining the burning of the charcoal and giving you an undisturbed hookah session.

Afzal Aluminium Foils are specially made from superior 25-micron thickness aluminium foil and are completely Hookah friendly. The foil sheets are easy to use, hassle-free and convenient by being ready cut. They control the burning of the flavours so that you can enjoy a longer smoking session.

Each pack contains 50 foil sheets, with each sheet surrounded by greaseproof paper for your convenience!

We recommend doubling the foil sheet on most hookah bowls for best results!
You acknowledge and guarantee that by using or buying this product, you have reached the age of 19 years. This offer is intended solely for persons who are 19 years of age or older, and any registration, use or access to the Website/Products/offer by anyone under the age of 19 is unauthorized, unlicensed, and in violation of these General Terms. You agree that the use of the products / Website, including the webshop, is at your sole risk. You agree that all products, including but not limited to bongs, rolling papers, water pipes, glass tubes, and pipes displayed, advertised or sold within the Website are expressly intended for ornamental purposes, collector purposes, or use with legal smoking products or other lawful purposes only. No other use for these items in any way is either intended or condoned by you or our webshop/website.