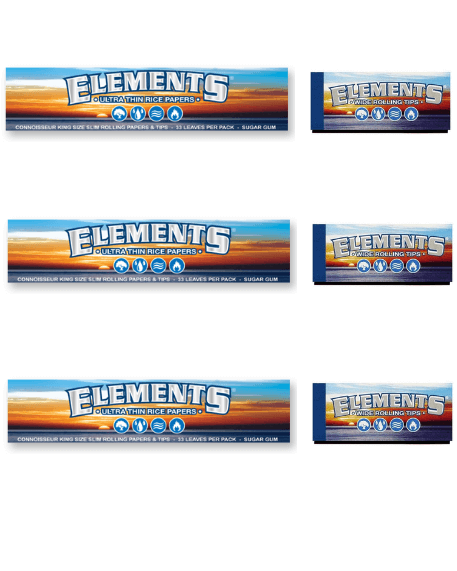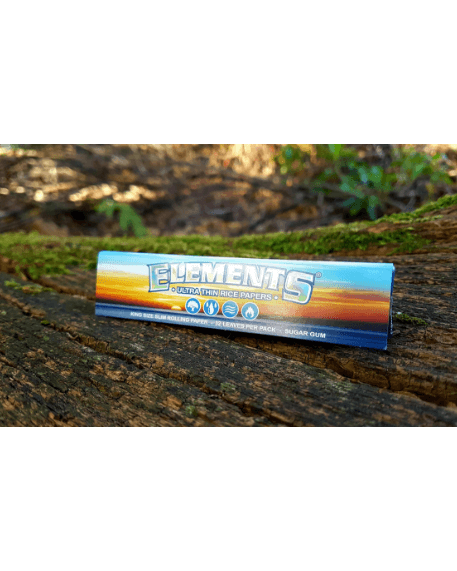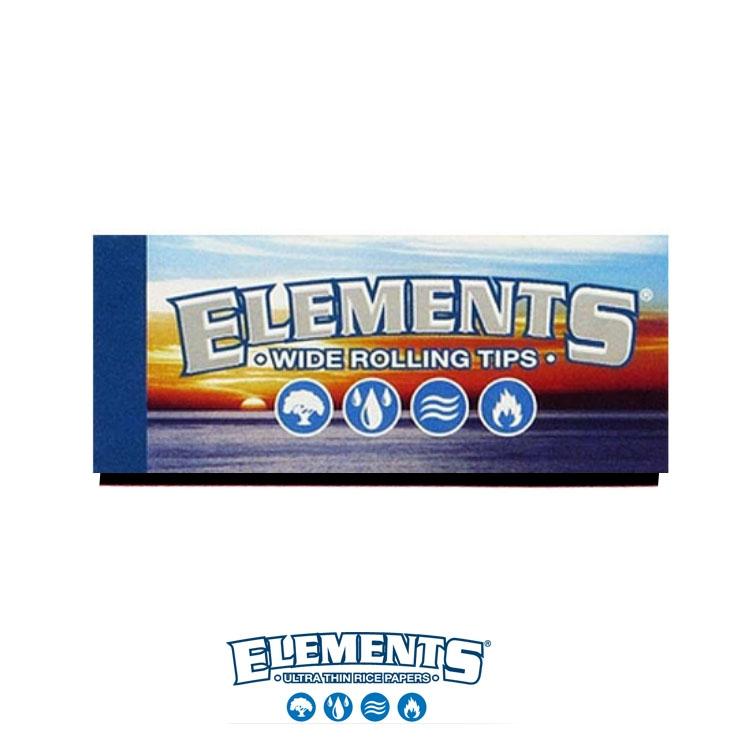 Elements rolling paper + Elements wide paper tips/roach - Set Of 6
Pack Of 3 Elements King Size Ultra Slim Papers + 3 Elements Wide Tips/Roaches. Each Rolling Paper packet contains 33 leaves of pure pleasure and each Tips packet contains 50 filter tips.

Elements King Size Ultra Slim Papers burn smoothly producing no ash except the caramel created as the sugar gum burns, this is the result of using a criss-cross imprint.

Elements do know how to shake a smoking fan to the core. High-quality, ultra-thin rolling papers that need the expertise to fold or the just street smart. ELEMENTS King Size Slim is made from natural environmental and earthly friendly materials while their rolling papers are 100% windmill powered. Elements rolling papers are one of the best rolling papers in the market currently. Elements is a leading light in the world of high-quality smoking products ensuring that each product passes their tests of high standard quality checks.

The taste of tobacco in your mouth or as it slips in your teeth is a plenty unpleasant one. Elements tips are made in a way such that they prevent this situation by giving you space between the tobacco and your teeth. Elements tips are made of fine material hence the effectiveness is assured. 

The card used is totally devoid of chlorine and chemical.
You acknowledge and guarantee that by using or buying this product, you have reached the age of 19 years. This offer is intended solely for persons who are 19 years of age or older, and any registration, use or access to the Website/Products/offer by anyone under the age of 19 is unauthorized, unlicensed, and in violation of these General Terms. You agree that the use of the products / Website, including the webshop, is at your sole risk. You agree that all products, including but not limited to bongs, rolling papers, water pipes, glass tubes, and pipes displayed, advertised or sold within the Website are expressly intended for ornamental purposes, collector purposes, or use with legal smoking products or other lawful purposes only. No other use for these items in any way is either intended or condoned by you or our webshop/website.