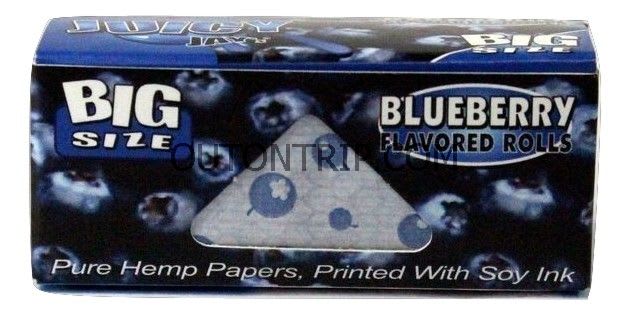 JUICY JAY's ROLL 5meter Blueberry ROLLING PAPER ROLL
Juicy Jay rolls are the best way to create your customized smokes. Restrictions imposed by precut rolling papers are frustrating, and that is why Juicy Jay brings you these rolls that come in 15ft that make sure if you do not like rules about what size you should smoke, then you do not play by them. You determine what size you want your rolls to be and what amount of smoking mix to place in the rolls. JUICY JAY's ROLLS Blueberry is such an awesome smoking experience. JUICY JAY's ROLLS Blueberry are sweet and leave you with a sensation taste. They are produced with the trademarked triple-dipped flavoring system, allowing the entire rolling paper to be safely infused with this delicious flavor of blueberry. This ensures that the flavor is retained and is spread throughout the paper roll. You do not have to be perfect to roll your joint since it is so easy, and if you fail several times, you will smoke the roll as it is. JUICY JAY's ROLLS Blueberry is made of high-quality rolling paper and this makes it possible to roll any amount of smoking stuff without the paper breaking. The Juicy Jay rolls burn with a slow even burn due to the high-quality paper. The modern smoking world is going back to its traditions.
You acknowledge and guarantee that by using or buying this product, you have reached the age of 19 years. This offer is intended solely for persons who are 19 years of age or older, and any registration, use or access to the Website/Products/offer by anyone under the age of 19 is unauthorized, unlicensed, and in violation of these General Terms. You agree that the use of the products / Website, including the webshop, is at your sole risk. You agree that all products, including but not limited to bongs, rolling papers, water pipes, glass tubes, and pipes displayed, advertised or sold within the Website are expressly intended for ornamental purposes, collector purposes, or use with legal smoking products or other lawful purposes only. No other use for these items in any way is either intended or condoned by you or our webshop/website.