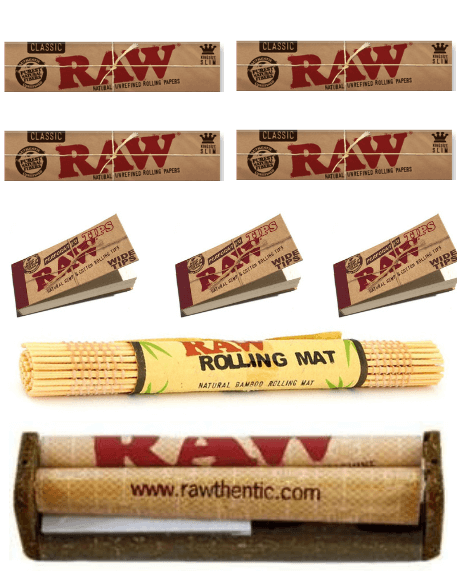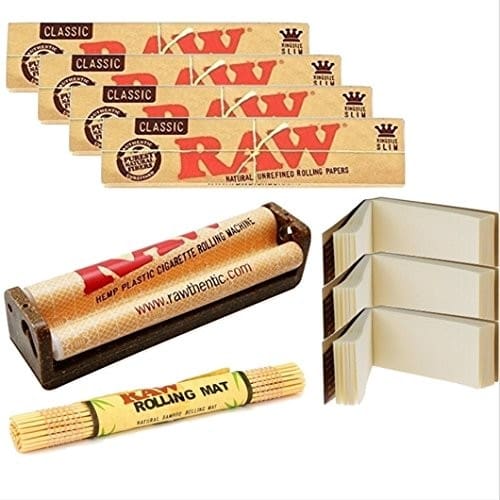 RAW Classic King Size Slim Combo Includes: 4 Packs Of RAW Classic King Size Slim Rolling Paper, 3 RAW wide perforated Tips, RAW 110MM Roller and Raw bamboo rolling mat
With this combo you will receive 4 Raw classic king size 32 leaves rolling papers, 3 Raw wide filter tips/roach, 1 Raw 110mm ecoplastic

rollers - rolling paper rolling machine and also 1 Raw Bamboo rolling MAT to crush and roll.

Raw King size Slim Smoking Papers 32 papers each pack these paper are a totally natural vegan rolling paper, completely unbleached and made from unrefined paper.

Each pack have 50 tips. RAW perforated WIDE tips, just like all other RAW products are made from all-natural products and use Chlorine free paper. The tips also have been blended with cotton and hemp which make the paper really soft and flexible

King size Joints up to 110 mm in length with the RAW Rolling Machine. Unlike other machines made of cheap plastic, this will last a lifetime! A high-quality rolling machine, popular with smokers around the world. RAW ROLLING MACHINE PROPERTIES Turning length: 110 mm Suitable for: Kingsize, Single Wide, 1 1/4.

RAW BAMBOO ROLLING MAT - Rolling the perfect cigarette now couldn't be easier: Simply place your chosen smoking paper onto the rolling mat and fill with your smoking tobacco. Now pick up the mat and roll between your fingers. The mat will help you roll your roll-up into a perfect shape. Once you have almost finished rolling the cigarette up, lick the gum on the paper and complete the roll.
You acknowledge and guarantee that by using or buying this product, you have reached the age of 19 years. This offer is intended solely for persons who are 19 years of age or older, and any registration, use or access to the Website/Products/offer by anyone under the age of 19 is unauthorized, unlicensed, and in violation of these General Terms. You agree that the use of the products / Website, including the webshop, is at your sole risk. You agree that all products, including but not limited to bongs, rolling papers, water pipes, glass tubes, and pipes displayed, advertised or sold within the Website are expressly intended for ornamental purposes, collector purposes, or use with legal smoking products or other lawful purposes only. No other use for these items in any way is either intended or condoned by you or our webshop/website.