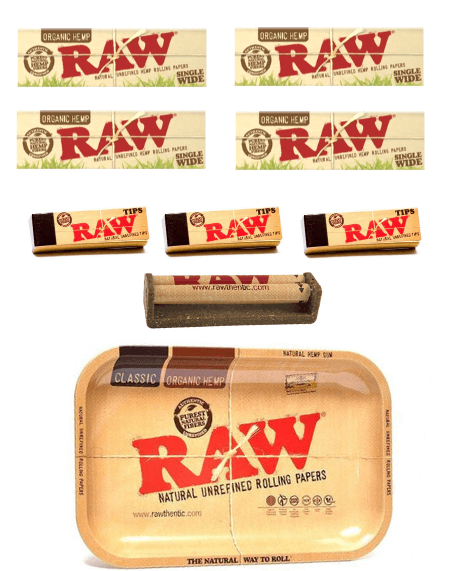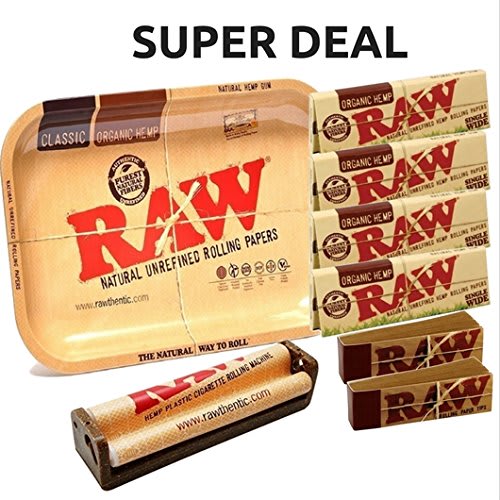 OutonTrip RAW Rolling Tray Combo Includes Large size Tray, Raw Single Wide Rolling Papers, 79mm Rolling Machine, Regular Tips and INCLUDES - OutonTrip Paper Astray Box
You will receive 4 Raw organic single wide 50 leaves rolling papers, 2 Raw rolling paper filter tips/roach, a Raw 79mm ecoplastic rollers - rolling paper rolling machine and 1 Raw metal rolling tray medium. Now you will have 8 products.

With a natural vegan blend of organic hemp and a natural sugar gumming, RAW is the best choice in the natural rolling paper market. RAW is unlike anything you've tried before, but don't let our words convince you, try them yourself and see the difference RAW makes. Paper features Rolling Supreme's patented run-preventing watermark system with cross-weave patterning and vertical hard-stop lines, to keep your smokes burning slowly and evenly, every time.

RAWå¨ TIPS CHLORINE AND CHEMICAL FREE 50 Tips per pack RAW Tips are made on an antique Fourdrinier paper machine. Whereas RAW papers are made in Alcoy Spain, we only have machines to produce thin paper in Alcoy. For the thick tipping paper we had to travel to an old paper mill in Northern China that was still using an original Fourdrinier. This was the only place we could find that still had one of these old machines in use, which we needed to make the special long-fiber paper for RAW tips

This RAW 79mm Cigarette Roller is made from a high quality hemp plastic that is eco-friendly. RAW is known for their vegan, natural, eco-friendly and organic cigarette accessories. This cigarette roller will serve you for a long time to come and produce an evenly rolled cigarette in no time at all.

RAW METAL Tray Medium - The tray itself is made from a high grade premium metal which will not bend, warp or become flexible, no matter what you do to it! All over the tray you will notice that it mimics the criss crosses found on their rolling papers as well as all four corners being completely rounded off.
You acknowledge and guarantee that by using or buying this product, you have reached the age of 19 years. This offer is intended solely for persons who are 19 years of age or older, and any registration, use or access to the Website/Products/offer by anyone under the age of 19 is unauthorized, unlicensed, and in violation of these General Terms. You agree that the use of the products / Website, including the webshop, is at your sole risk. You agree that all products, including but not limited to bongs, rolling papers, water pipes, glass tubes, and pipes displayed, advertised or sold within the Website are expressly intended for ornamental purposes, collector purposes, or use with legal smoking products or other lawful purposes only. No other use for these items in any way is either intended or condoned by you or our webshop/website.